The Covid-19 pandemic has created an immediate worldwide need for consumer health self-monitoring technologies. As with any viral infection, one of the first signs of illness is the onset of a fever. Ideally, fever monitoring is done by patients at-home using their phones.
Gentag, Inc. and its patent holding company, Altivera, LLC, are experienced in the area of wireless self-monitoring technologies, having predicted the Near Field Communication (NFC) consumer diagnostics cell phone markets in 2003.
GENTAG / ALTIVERA COVID-19 Screening Technologies and Intellectual Property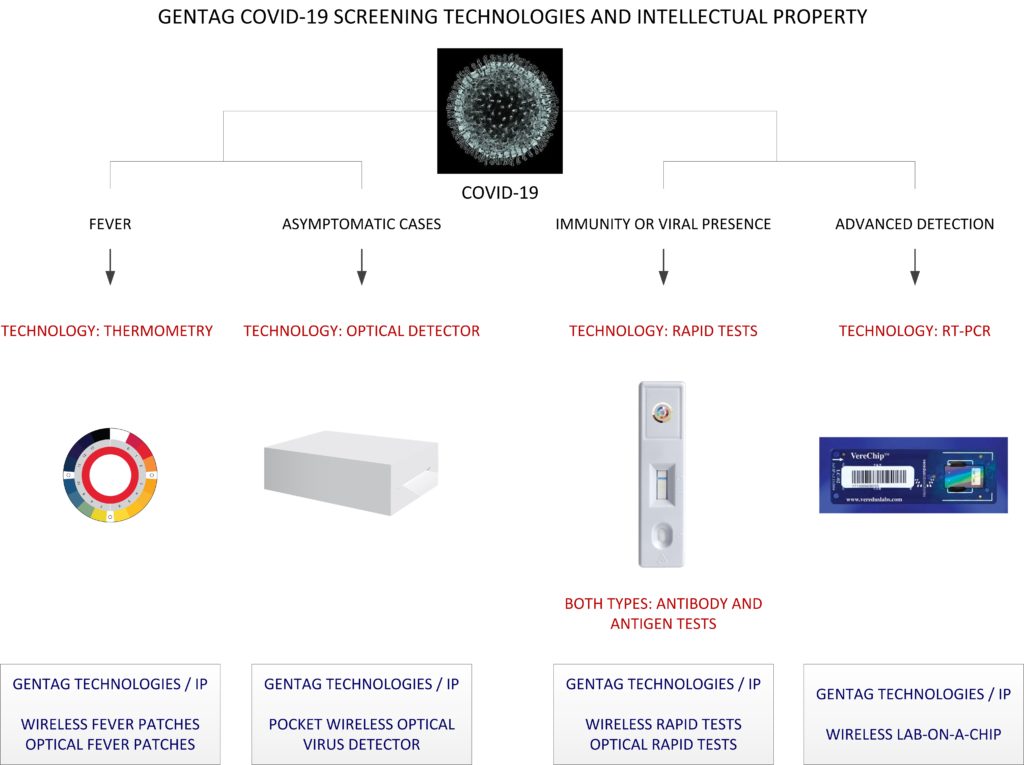 Gentag has worldwide patents in several key areas related to the virus. These patented technologies cover the consumer self-diagnostic health markets with cell phones. Specifically the patented Gentag/Altivera technologies related to Covid-19 include the following:
FEVER MONITORING
NFC / Bluetooth fever patches (licensed)
Optical blockchain fever patches
RAPID DIAGNOSTIC TESTS (ANTIBODIES AND ANTIGENS)
NFC / Bluetooth lateral flow immunoassays
Optical blockchain immunoassays
ADVANCED DIAGNOSTIC TESTS
NFC / Bluetooth Lab-on-a-Chip
NFC / Bluetooth biomarker diagnostic skin patches
Optical Virus Detector (Asymptomatic Cases)
MEDICATION MONITORING
Biologic/biosimilar drug compliance monitoring platform
Drug authentication platform
Partnerships are currently being discussed with a number of companies on these individual technology areas related to the virus. The Gentag/Altivera IP offers is a unifying patented platform allowing a company to take the lead in the Covid-19 markets, as well as future markets for consumer health self-monitoring using cell phones.